HK tycoon Zhang Zhi Rong named in trading probe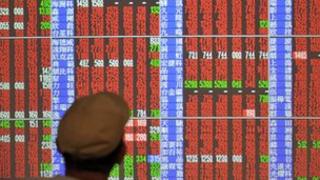 Hong-Kong based shipbuilder China Rongsheng Heavy has moved to calm investors after a separate company controlled by its chairman, Zhang Zhi Rong, was implicated in an insider trading scandal.
A US regulator said traders at Well Advantage Limited made more than $7m (£4.5m) in illegal profits.
It said traders had prior information of a deal between Chinese state-owned oil firm CNOOC and Canada's Nexen.
Assets of the traders have been frozen.
Last week CNOOC, China's biggest offshore oil producer, said it had offered $15.1bn to acquire rival oil company Nexen.
The US Securities and Exchange Commission (SEC) said traders at Well Advantage Limited, and other "unknown traders", had stockpiled shares of Nexen, which is listed in the US, in the days before the public announcement.
After the deal was made public, shares in Nexen rose nearly 52%.
The traders then sold off the shares at the higher price, resulting in a total of $13m in illegal profits, the SEC said.
'No role'
Well Advantage is not a publicly listed company and could not be reached for comment.
However, China Rongsheng Heavy is listed in Hong Kong, and according to December 2010 statement entered into a "strategic co-operation agreement" with CNOOC.
On Monday, it sought to limit the damage from the SEC probe with statement to the Hong Kong stock exchange that said Mr Zhang was not involved in the running of the company.
"Mr Zhang does not have any executive role in the company. The day-to-day business activities and operation of the group is and will continue to be carried out by the management team, of which Mr Zhang is not a member."
Despite the statement, China Rongsheng Heavy shares fell 16% on Monday to a record low of 1.15 Hong Kong dollars.
'Familiar pattern'
In its statement on Friday, the SEC said traders at Well Advantage had bought more than 830,000 shares of Nexen on 19 July and made a trading profit of more than $7m.
Other "unknown traders" made similar purchases through accounts in Singapore of more than 676,000 Nexen shares before the announcement.
It said they sold nearly all the stock after the deal was public, resulting in a profit of $6m.
"Well Advantage and these other traders engaged in an all-too-familiar pattern of misusing inside information to place extremely timely trades and profit handsomely from their illegal acts," said Sanjay Wadhwa, deputy chief of the SEC Enforcement Division's Market Abuse Unit.