Amazon reports 96% fall in Q2 profit on robot deal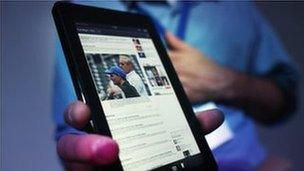 The online retailer Amazon has reported a 96% fall in profits to $7m (£4.5m) for the three months ending in June, down from $191m a year earlier.
The company blamed the fall on a $65m loss from its purchase of robot-maker Kiva systems earlier this year.
Sales rose 29% to $12.8bn, slightly lower than analyst predictions.
The company also blamed the strong dollar, which made its products more expensive in Europe and other key markets, for the drop in earnings.
Amazon also warned it would make a loss of between $50m and $350m in the current three month period.
Amazon agreed to buy Kiva Systems, which makes robot technology to automate warehouses, for $775m in March.
It hopes the technology will eventually boost its productivity and profitability.
Amazon's shares rose 1.2% in after-hours trading following the release of the results.