Apple chip designer Arm Holdings in 23% profits boost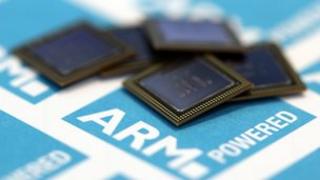 ARM Holdings, the UK company behind the computer chip technology powering Apple's iPhone and iPad, has reported a 23% boost to second-quarter profits.
The Cambridge-based company announced pre-tax profits of £66.5m on sales of £135m for the three months to the end of June, beating analysts' forecasts.
Despite Apple's lower-than-forecast profit rise posted on Tuesday, demand for ARM technology in smartphones, computers and TVs remains high.
ARM shares rose nearly 6% on the news.
ARM licenses its technology to chip makers and receives royalty income on its intellectual property.
The company said 2 billion chips had been shipped during the quarter, up 9% year-on-year compared to an industry-wide fall of 4%, while processor royalties grew 14%.
"ARM's royalty revenues continued to outperform the overall semiconductor industry as our customers gained market share within existing markets and launched products which are taking ARM technology into new markets," said the company's chief executive Warren East.
The company said full-year results would be in line with market expectations, in contrast with chip technology companies Intel and Qualcomm, which have reduced forecasts in recent weeks.