Seven banks to review business loan sales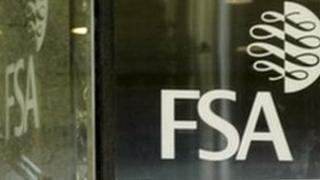 Seven more banks have agreed to review the sale of specialist insurance to small businesses to check for mis-selling.
The City watchdog has already found "serious failings" at four other banks in the sale of the products, known as interest rate swaps.
The Financial Services Authority (FSA) said there was no presumption of mis-selling at the other seven.
However, customers will be compensated if mis-selling emerges from the review.
The seven banks that have now also agreed to review their sale of these products are Allied Irish Bank (UK), Bank of Ireland, Clydesdale and Yorkshire banks (part of the National Australia Group, Europe), Co-operative Bank, Northern Bank and Santander UK.
This group accounted for about 10% of UK sales of these hedging products.
'Major exercise'
Last month, it emerged that Barclays, HSBC, Lloyds and RBS could face a bill of more than £1bn after agreeing with the FSA to study the sale of about 28,000 interest rate protection products sold to small businesses since 2001.
The products were offered to thousands of small firms - including pub owners, haulage firms, care-home operators and vets - when they asked their bank to take out a loan.
The borrowers were told that the product would provide an "insurance" or "hedge" against the risk of interest rates rising, but rates then fell and they faced heavy losses.
Many borrowers claim that they were pressurised into buying these products.
Regarding the latest review by the seven banks, Clive Adamson, of the FSA, said: "Although the number of their sales was smaller and while there is no presumption that mis-selling has occurred, it shows their willingness to do the right thing and ensure their customers who bought these products can be confident that they will be treated on an equal basis.
"This is a major exercise but one that we hope will ensure even more businesses benefit from having their individual situation reviewed."
The FSA said this review could take a long time, but that it would be independently assessed.