Price cap for parcels confirmed by mail regulator Ofcom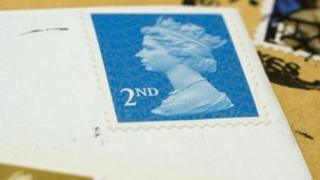 A cap on prices that Royal Mail can charge for large letters and small parcels sent by second-class post has been confirmed by the regulator.
Ofcom decided that the price limit would be linked to the rise allowed for regular second-class stamps.
It estimated that half the amount spent by the average family on postal services was the cost of sending large letters and small parcels.
A watchdog has said that people expect more options for parcel delivery.
Consumer Focus said in a report that residential consumers might be willing to accept a reduced number of postal deliveries during the week.
However, they wanted more pick-up points, longer opening hours, and more convenient locations to collect parcels.
"Consumers tell us that post will still have a role in their lives in five years' time and the postal service must reflect their changing needs," said Robert Hammond, of Consumer Focus.
This reflected the growth of online shopping deliveries and the fall in letters, as people move to email, he said.
Price changes
The cost of sending a large letter up to 100g by second-class post rose from 58p to 69p at the end of April. The price of some small parcels of up to 2kg also rose, depending on weight.
The cost of a second-class stamp for a regular letter increased from 36p to 50p. However, the rules allow for these prices to go higher.
The regulator has capped the price of second-class stamps at 55p. This cap can rise at the rate of inflation over the next seven years.
The cap on large letters and parcels of up to 2kg is now directly linked to this, meaning that prices can rise by no more than 34% from the end of April 2012 until 2019 in addition to the Consumer Prices Index (CPI) measure of inflation.