Libor director at BBA not to be replaced during enquiry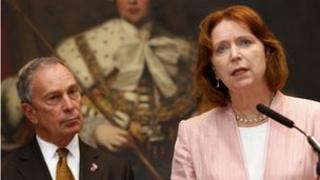 The British Bankers' Association (BBA) will have no head of Libor, the key interbank lending rate calculated by the BBA, while investigations into its manipulation by banks continue.
John Ewan, who was director of Libor when news about the rate rigging broke, left the association last Friday.
The BBA has told the BBC that he will not be replaced while investigations into allegations of fixing continue.
An "assistant" from the BBA Libor team will oversee the work, the BBA said.
The London-based banks' trade body would not confirm the name of the assistant in question, or the number of people on the team.
Spotlight
Mr Ewan resigned in April and served three months' notice at the organisation. The BBA denied that his departure was related to the Libor-fixing scandal.
Mr Ewan, who became director for Libor at the BBA in May 2010, left the organisation on Friday 13 July to become a business development director at publishing and data company Thomson Reuters, where he will work within its fixing and benchmark business.
Thomson Reuters is contracted by the BBA to gather data from the banks and then use it to calculate and publish the Libor rate on the BBA's behalf.
Barclays has admitted on 27 June that it had sought for years to manipulate Libor, the benchmark interest rate that is supposed to reflect how much the big international banks in London must pay in order to borrow money from each other.
The bank received a £59.9m fine from the Financial Services Authority for the misconduct, while in the US, the Department of Justice and the Commodity Futures Trading Commission (CFTC) imposed fines worth £102m and £128m respectively.
Barclays' admission has put the spotlight onto other banks involved in Libor, as well as onto the BBA itself, which sets and then published the rate each morning.
Investigations into the possible widespread manipulation of Libor by a host of banks are being conducted by US, British, European and Asian regulators and governments.