UK public borrowing rises in June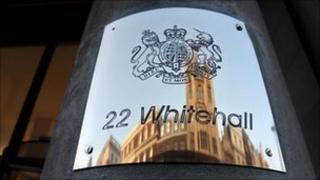 The UK government borrowed more than expected in June, leading some analysts to question whether it will meet its deficit reduction target this year.
Public sector net borrowing, excluding interventions such as bank bailouts, was £14.4bn last month, up from £13.9bn in June 2011, the Office for National Statistics (ONS) said.
Analysts had forecast a much lower figure of about £13.4bn.
The Treasury said it was too soon to say what full-year borrowing would be.
"It is too early in the financial year to draw conclusions about the year as a whole," a Treasury spokesman said.
"This is volatile data and is prone to revision," he said, adding that borrowing for 2011-12 had been revised again and was now estimated to be below the Office for Budget Responsibility's forecast.
The OBR, whose forecast is used by the government, had predicted borrowing of £126bn in the year to March 2012.
The ONS now says that borrowing in the last financial year was actually £125.7bn, revising the estimate of £127.6bn that it made last month.
'Worsening trend'
Analysts had expected borrowing in June to be £1bn lower than the ONS's newly released £14.4bn estimate.
Much of that overshoot was due to a smaller surplus in local government finances than last year, because of deferred or reduced central government grants.
Meanwhile, central government income tax and corporation tax receipts were down on a year ago, but VAT receipts were up.
The coalition government is committed to eliminating the structural deficit by 2016-17, and has introduced a series of tax rises and spending cuts since coming to power in May 2010.
The OBR has forecast borrowing of £120bn in 2012-13.
But Investec economist Vicky Clarke said that meeting that target now looked "a bit more challenging", while Vicky Redwood from Capital Economics said it looked like borrowing would miss the OBR's full-year forecast by about £20bn.
Crisis jargon buster
Use the dropdown for easy-to-understand explanations of key financial terms:
AAA-rating
The best credit rating that can be given to a borrower's debts, indicating that the risk of borrowing defaulting is minuscule.
"Admittedly, the data have been a bit volatile recently, in part due to bank holiday effects," Ms Redwood said.
"Nonetheless, the trend has been worsening for a few months now and the full effect of the recent return to recession on the public finances is probably yet to be seen."
Others pointed to economic growth as the government's main concern.
"The problem for the government is that economic activity is likely to fall short of what it forecast earlier this year, and that in itself is likely to see the deficit rising higher both from extra spending but also from a lack of tax receipts," David Page, economist at Lloyds Bank, told the BBC.
On Thursday, the International Monetary Fund (IMF) said the government should slow the pace of budget cuts next year if growth does not recover.
Earlier this week Prime Minister David Cameron admitted that austerity measures may have to last until 2020.