Heineken bids $4.1bn for Tiger beer maker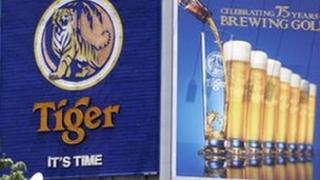 Heineken has made a bid to buy the remaining stake in Tiger beer maker Asia Pacific Breweries (APB) that it does not already own.
The offer of 5.1bn Singapore dollars ($4.1bn; £2.6bn) is for the share owned by Singapore-listed company Fraser and Neave (F&N).
The bid comes after Thailand's biggest brewer, ThaiBev, offered to buy shares in F&N and Asia Pacific Breweries.
Beer companies are jostling for control in the fast growing Asian market.
'Next chapter'
"We really value our partnership with F&N which goes back over 80 years, but due to changes in the F&N and APB shareholding, the fabric of the partnership has changed," said Heineken chief executive Jean-Francoi van Boxmeer.
He added that the company was looking ahead to the "next chapter of our Asian business".
Heineken will offer a price of 50 Singapore dollars a share, the brewing giant said in a statement .
Analysts said the move is aimed at protecting Heineken's interests in the region, and the desire to continue with its expansion plans.
The current ownership structures of APB, one of the largest in the region, is convoluted.
Heineken currently controls 42% of the brewery, while F&N owns 40%. Heineken also owns a direct 9.5% stake in Asia Pacific Breweries.
Rival Kirin, from Japan, owns an almost 15% stake in F&N.
Mr van Boxmeer has previously said he was "uncomfortable" when Japan's Kirin made that move.