Clinton Cards' remaining stores to close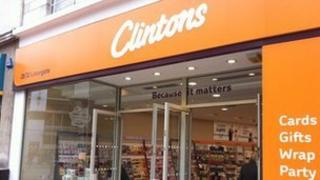 The last Clinton Cards stores which remained unsold are to close by the end of July, Clintons' administrators Zolfo Cooper have announced.
These stores were not included in the sale to Lakeshore Lending Limited, a subsidiary of American Greetings, which bought 397 Clintons stores last month.
Zolfo Cooper said there had been no interest in the last 76 stores because of "deteriorating market conditions".
In total, more than 350 stores have closed or are due to close.
Clinton Cards was placed into administration on 9 May.
Founded in 1968, it is the UK's biggest card retailer. Before entering administration, it operated more than 750 shops, including 139 Birthdays stores which have all since closed, and employed more than 8,000 staff.
Since the Lakeshore Lending Limited deal was announced on 7 June, Zolfo Cooper has attempted to find buyers for the remaining stores.
However, it has not been successful and over the last few weeks it has announced more and more store closures, culminating in the final 76 announced on Thursday.
"It is with regret that we have had to take the decision to close the remaining stores," said Peter Saville, partner at Zolfo Cooper.
"We are nonetheless pleased that in an extremely challenging retail environment, we were able to effect the sale of almost 400 stores, thus preserving something in the region of 4,500 jobs."