UK retail sales increase by 0.1% in June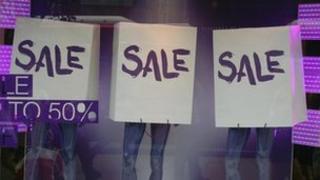 UK retail sales volumes edged up by just 0.1% in June from the month before, official figures have shown.
Compared with June 2011, sales volumes were up 1.6%.
The Office for National Statistics (ONS) said that reduced prices in clothing and footwear stores was one of the main reasons for the rise.
But it said the weather in June, with heavy rainfall and strong winds, had contributed to a contraction in sales in the food sector.
However, it also said that the Diamond Jubilee celebrations, which led to a two-day bank holiday in June, did not appear to have had a significant impact on retail sales.
In contrast, when the Golden Jubilee added an extra bank holiday to June 2002, sales volumes fell 1.8% on the month, the ONS noted.
Promotions and sales
Sales by value fell 0.5% last month, compared with May, but increased 1.9% on the year, the latest figures showed.
Store price inflation - the rate at which prices are going up - slowed to 0.3% in June, the lowest since October 2009.
In textile, clothing and footwear stores, prices actually fell 3.5% on the month before, as a result of promotions and retailers bringing forward summer sales because of the unseasonable weather.
This helped to boost sales in the sector, with volumes rising 2.5% compared with May.
Bryan Roberts, retail analyst at Kantar Retail, told the BBC that anyone hoping for a consumer-led recovery would be left frustrated.
"A lot of hopes are now being pinned on the Olympics and hopefully some better weather as we head into August," he said.
Rain affected
The impact of the wet weather was evident on Thursday as several retailers blamed the rain for falling UK sales.
Like-for-like sales for the most recent quarter fell 6.7% at babywear retailer Mothercare and dropped 5.6% at car parts and bicycle retailer Halfords, which also announced that its chief executive David Wild was stepping down.
DIY chain Kingfisher, which owns B&Q and Screwfix, saw quarterly sales up 1.1%, but this still missed analysts' forecasts, while sales for the half-year were down 5.6%.
Sportswear retailer JJB Sports also reported an 8.7% slump in first-half sales. It said trading in May and June had been weak "owing principally to poor sales of football replica kits and product associated with the European Football Championships, exacerbated by the poor early summer weather".
However, rival Sports Direct fared better and provided a bright spot on the retail landscape.
It reported a 13% rise in sales for 2011-12, as well as a 10% increase in pre-tax profit to £149m.
"In spite of the low expectations surrounding England's participation in Euro 2012 and the unseasonal weather, our core divisions are performing well. Excitement is building towards the Olympics," the retailer said.