Peugeot will face 'concessions' in return for state aid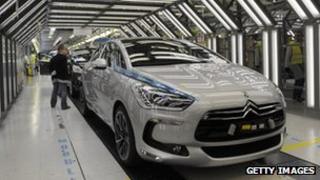 Struggling French carmaker PSA Peugeot Citroen will have to make sacrifices in return for state support, the country's industry minister has said.
Arnaud Montebourg did not specify any concessions to be made, but he told French radio that a proposed aid package would not be unconditional.
Details of support for the car sector are due to be published next week.
Mounting losses has forced Peugeot to announce 8,000 job losses and the proposed closure of a car plant.
"Our strategy is that public aid... will not be granted without concessions," Mr Montebourg said.
A survey of French dealerships showed on Tuesday that car orders dropped by 16% in June, after a 10% fall in May.
In his radio interview on Wednesday Mr Montebourg indicated that Peugeot, Europe's second largest carmaker, could be required to suspend dividend payments.
He has asked how Peugeot family members, who control the company through a 25.2% stake commanding 37.9% voting rights, continued to pay dividends.
"The family has a number of things to explain to us," he said.
Emmanuel Sartorius, appointed by the government of Francois Hollande to examine Peugeot's restructuring, will meet chairman Thierry Peugeot on Friday, the company said.
Peugeot's job cuts have caused dismay in Paris, where the new socialist government came to power on a promise to reverse industrial decline.
Mr Hollande has asked Peugeot to reconsider the cuts.
French media has reported that next week's support plan for the car industry is likely to include help for environmentally friendly vehicles but no new car scrappage incentives.