Marks and Spencer to charge for bank account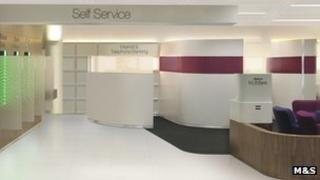 High Street retailer Marks and Spencer will charge customers a monthly fee of up to £20 for users of its first current account.
Customers will also be offered money-off vouchers that can be used in stores.
M&S recently announced it was to launch an in-store banking service this summer, backed by HSBC.
A number of traditional banks offer "packaged" bank accounts, which also carry a monthly fee.
The Financial Services Authority (FSA) says one in five UK adults has such a packaged account.
But it says some consumers are being sold accounts that they may not need, and has made proposals to tighten up sales of these types of accounts.
The Office of Fair Trading has also announced a review of personal current accounts offered by banks, looking into transparency and competition.
New branches
Customers can pre-register for M&S Bank current accounts now, and they will become operational in the autumn.
For £20 a month, the premium current account offers insurance and in-store benefits. Customers will also be given access to a savings account with a fixed rate of 6%.
A similar account without insurance costs £15 a month and comes with similar banking and rewards and a lower amount of potential benefits.
The accounts have an automatic £500 overdraft, with the first £100 interest-free.
The first M&S Bank branch is opening at the group's flagship store at Marble Arch in London.
The retailer plans to open a total of 50 branches in M&S stores over the next two years, creating 500 jobs by the end of 2013.
The retailer said its bank branches would follow store opening hours.
M&S began offering financial products in 1985, and its M&S Money operation - which offers credit cards, loans and savings - has three million customers with deposits of £3.2bn.
M&S Money was bought by HSBC in November 2004, with the operation being run by the bank and the retailer as a joint venture. HSBC, which also runs First Direct, and M&S share any profits in the bank equally.