Sir Richard Branson mulls buying back Virgin Records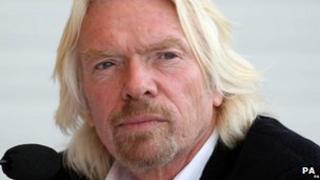 Sir Richard Branson is considering buying back Virgin Records, the music company he founded more than 40 years ago.
"Looking into buying #virginrecords", he Tweeted on Tuesday afternoon. "Great opportunity to recreate a dynamic independent label".
Current owner, Vivendi-owned Universal Music, may sell Virgin in a bid to appease competition authorities.
Universal is looking to buy rival label EMI for £1.2bn.
Sir Richard originally sold Virgin Records, the company he founded in 1970 aged just 20, to Thorn EMI for £510m in 1992.
The Financial Times reported that Sir Richard was in talks with French entrepreneur Patrick Zelnik, who runs Naive Records, over teaming up to buy the Virgin label if Universal puts it up for sale.
Virgin Records artists include Gorillaz, Emeli Sande, and The Rolling Stones.
Pizza king
Meanwhile, in an example of another British entrepreneur returning to his roots, Luke Johnson, former chairman of Pizza Express, has submitted a final-round bid to acquire part of Pizza Hut UK.
Mr Johnson is making the bid via his investment company, Risk Capital Partners.