Goldman Sachs' profits drop sharply in second quarter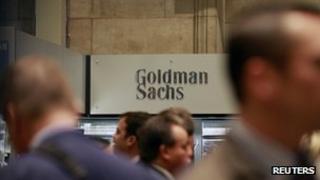 Goldman Sachs has said its net profits dropped sharply in the second quarter due to a drop in its investment banking activities and a deteriorating market.
Net income fell at the US bank to $962m (£615m) in the three months to 30 June, down from $2.1bn in the first quarter.
Profit was down 11% from $1.05bn recorded in the second quarter of 2011.
Net revenues in investment banking fell 17% from a year earlier to $1.2bn. Staff compensation - salaries and bonuses - fell 9% to $2.92bn.
"During the second quarter, market conditions deteriorated and activity levels for both corporate and investing clients were lower given continued instability in Europe and concerns about global growth," said Goldman chief executive Lloyd Blankfein.
The bank makes most of its money from providing services to big institutional investors such as multi-national corporations, pension funds and other financial companies.
Revenue from share or equity trades fell 12% to $1.7bn from the same period in 2011.
However, that was offset by increased income from trading in bonds, currencies and commodities.
Goldman made $2.19bn from these services, up 11% from the second quarter of 2011.