Foreign investment in China slips 6.9% as economy slows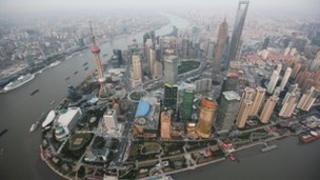 Foreign direct investment into China fell in June as an economic slowdown dampened companies' appetite for expansion.
Inbound investment fell 6.9% from a year earlier to $12bn (£7.7bn), figures showed. This comes after a six-month slide and only a 0.1% gain in May.
The Chinese economy grew at its slowest pace in three years in the second quarter of this year.
Premier Wen Jiabao has said China faces downward pressures.
For the first six months of the year, foreign investment declined 3% from a year earlier to $59.1bn, the Commerce Ministry said.
"The pace of the world economic recovery remained slow, and many uncertainties persisted," said ministry spokesman Shen Danyang.
"In particular, the European Union debt crisis has yet to be resolved."
A rise in Chinese production costs and a tightening in property policy also contributed to the decline, Mr Shen added.
Varying investment
In recent months, Beijing has implemented curbs to try to prevent speculative activity in the property market which has driven up prices and sparked fears of a bubble.
Despite the debt problems in the eurozone, the Commerce Ministry said foreign direct investment from the European Union rose 1.6% to $3.5bn in the first half of the year, compared with the same period the previous year.
That reverses a trend in the first five months of the year when investment fell 5.1%.
However, investment from 10 Asian countries, including Japan and the Philippines was down 2.8%, and from the US it fell 3.2% to $1.6bn.