Banks have let down mutuals, says building society boss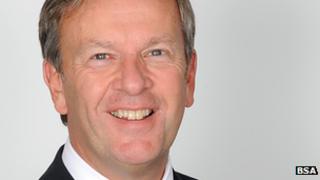 The chairman of the trade body for building societies says he feels let down by bosses of scandal-hit banks.
David Webster, who chairs the Building Societies Association, said he was disappointed in the banks that fixed a key interest rate or which had left customers without access to funds.
The mutual sector is seen as well placed to take advantage of customers' disgruntlement with banks.
But Mr Webster said the reputation of financial services had been damaged.
"A different leadership is required in UK banking in my view," he said.
Growth opportunity
Banks have been contending with a series of scandals in recent weeks. This has included a fine for Barclays for fixing Libor rates used to price trillions of dollars worth of deals between banks and other financial companies.
The RBS Group also apologised to customers after a computer breakdown meant customers balances were not updated at RBS, NatWest, RBS International, and - for up to a month - at Ulster Bank.
Mr Webster, who is the chief executive at the Hanley Building Society in Stoke, said he did not express any glee at the banks' IT failure "which could happen anywhere".
But he accepted that the scandals offered an opportunity to building societies to encourage consumers to switch.
"There is plenty of appetite to pinch business from the banks," he said.
This was not a wish to be combative, he said, but to offer a modern alternative to customers.
"Do not judge us on a sepia image of building societies," he said. "I do not see building societies as old news gathering dust."
Switching accounts
Yet, there is little solid evidence of a major movement of savers to alternative financial institutions. Mr Webster argued that mutuals had a better relationship with customers and inquiries had risen since the scandals broke.
His own society had six branches, 60 staff and 30,000 customers, giving it a smaller scale which made it easier to communicate with customers if things went wrong.
However, UK consumers rarely switch bank accounts, even at times when these banks' reputations have been hit, analysts have said.
Some consumers consider the businesses in the financial services sector to differ little, and that switching accounts would be a hassle.
Yet, with around 70 million accounts in the UK, any small shift between institutions by customers would be worth large amounts of money.