Paying store cards late can lead to a mortgage refusal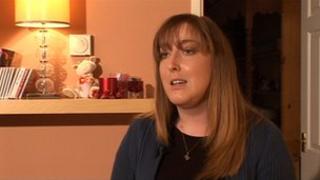 HSBC launched a five-year fixed rate mortgage this week, with a record low rate of 2.99%.
In the small print borrowers will find they will need a 40% deposit to qualify and such loan to value ratios are common among the better deals on the market.
But even people who have built up hefty deposits and have secure, well paid, jobs can still find it difficult to climb the housing ladder.
Some are being refused access to the lower rate deals because of their credit score, simply due to a missed bill payment years earlier.
24-year old Kate Shoesmith from Chippenham is getting married in October.
She and her partner wanted to move to a bigger house, ready to start a family, but she was told by her mortgage broker that her application would be turned down.
''I was absolutely shocked because three years ago when I was younger and less financially stable I was approved for a mortgage," she says.
"Now I am earning a lot more money and I have been refused.
"It's because of a few late payments on my credit file," she explains.
'Much more difficult'
One of Kate's cards was a store card with a late payment two years ago.
The other is credit card where, she says, the apparent late payment was not her fault and which she is disputing.
Ray Boulger, at independent mortgage advisers John Charcol, says cases like Kate's are becoming more common.
''Because lenders have so much less to lend these days it's much more difficult," he says.
"Even if you have a very small credit blemish on your record, something as simple as a ten pound phone bill you haven't paid, it could be enough to mean you could be rejected from a mortgage.
''The chances are if you go to another lender that also operates a 'computer says no' policy you will be declined again," he adds.
Mr Boulger advises people in this position not to apply again for a mortgage until they find out why they were turned down.
Potential bad risk
To do this you should check your credit file with one of the reference agencies like Experian or Equifax.
James Jones, from Experian, says the information it provides to lenders helps them assess whether customers can be relied upon to honour any future repayments.
''Your credit report helps a prospective lender establish what credit you have at the moment and how you are using it," he explains.
"Importantly, it also lists any credit you have used in the past six years, with details of how it was repaid.
"A track record of missed payments, even occasional, may be enough to convince a lender that you are not a good risk," he warns.
Kate did eventually find a lender who would give her a mortgage with her current credit score.
But the interest rate offered was over 7%.
She has now decided not to panic and rush into an expensive deal.
Instead she will wait until the blemishes disappear from her record but Equifax says she can take action herself.
"If someone has had difficulties in the past keeping up with credit payments, but they are now up date and have a good track record of payments, they can place a notice of correction on their credit file which lenders must take into account when assessing their application," it says.
"This is a free format statement of up to 200 words where they can explain the background to any arrears.''