Eurozone holidays: Your questions answered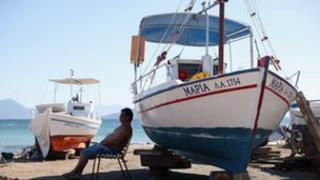 Millions of UK citizens are still taking their holidays in the eurozone this summer despite the continuing currency crisis there.
The lure of some sunshine in countries like France, Spain, Greece and Italy is still very strong.
So far, the main effect of the eurozone crisis for holiday makers has been to drive up the value of the pound against the euro by about 10%.
So our spending cash will go further this year. But what if the currency crisis takes a turn for the worse?
We asked you to send us your questions and they have been answered by Gillian Edwards of ABTA - The Travel Association.
I am travelling to Cyprus in two weeks time and my holiday is all inclusive with Thomas Cook. Although everything is paid for, I will still take an amount of cash for days out etc. I would normally take euros as they can then be used in other countries within the eurozone if I do not not spend them all. However, this time, I am debating taking sterling or just my debit card and withdrawing any money I need when I am there. My concern is that if I take euros and the eurozone falls deeper into crisis while I am there they could become worthless. I am assuming that my travel would not be affected if anything were to happen as it is covered by ABTA through Thomas Cook? David Williamson, Newport Pagnell.
I strongly recommend that you take euros with you and do not just rely on plastic or sterling. There is a lot of speculation about what would happen if Greece were to exit the euro but it is safe to say that there would be a transition period when you would still be able to pay with euros in bars and restaurants. You may also find that you can get a better exchange rate shopping around here than exchanging sterling in Greece. As you have booked a package holiday you will be entitled to a refund or repatriation in the unlikely event that anything should happen.
Can a travel company refuse to offer me a holiday if I refuse to take out travel insurance? Is it a legal requirement? Is it a contractual requirement of travel operators or agencies or can I just say no and still buy the holiday? Martin Letts, Southampton.
Some tour operators, including cruise companies, do legally require you to take out travel insurance and will ask for your insurance policy number before you travel. It will be stated in the terms and conditions of your contract and if you have booked through a travel agent they should also tell you about it when you book. This is done to protect you as a customer. If you travel without insurance you run the risk of sky high medical bills should you become ill or have an accident, as well as having to cover any costs for lost, damaged or stolen belongings.
We have a holiday booked with Thomson Holidays to the Levante Hotel Majorca in October 2012 and have to pay the outstanding balance by 16 October. Are there any issues we should be aware of in the light of the current economic crisis involving the Spanish, such as airport charges? JS, Stoke-on-Trent.
You should continue to pay your balance as normal. There are laws governing how much tour operators can surcharge after a booking has been made as a result of increases to their costs. The rules state that tour operators have to absorb an amount equivalent to 2% of the cost of the holiday, so in this case it is highly unlikely that you will face any increase in charges. October is a lovely time of year in Majorca - enjoy your stay and make the most of the good exchange rate.
If I were to book through a tour agency, will I get a refund if the holiday is cancelled due to street protests etc? Are the crime rates higher in Europe now with the financial turmoil? Chin Lan Kat, Perth, Australia.
In the UK if you book with a tour operator and the Foreign and Commonwealth Office (FCO) advises against travel to a destination because it is deemed unsafe you will be entitled to a full refund or repatriation if you are already on holiday. Likewise the FCO provides up to date information on its website about destinations, including information on crime, health and safety.
I am interested in working in Greece for a TEFL job (Teach English as a Foreign Language) so that I would be working for a school, and most probably running tuition classes outside of school time. How will the economy affect me living there? I predict I will be there for six to 12 months, starting sometime next year. Paula, Uxbridge.
That sounds like a great opportunity. You may find that your salary is slightly lower due to the current economic situation. However the good news is that the cost of living is likely to be cheaper as many Greek shops, bars and restaurants have brought down their prices to attract custom.
Is the cost of food and drink from markets and restaurants likely to be impacted in the next six weeks in Spain? And is there any risk of transport disruption? Gareth, Sydney, Australia.
Just as in Greece, many bars and restaurants in Spain have lowered their prices to attract custom as locals are cutting back on their spending. Many currencies are also strong against the euro right now so you are likely to find that your money stretches further in many respects.
Due to the current high levels of unemployment in Spain and the ongoing financial crisis there may be threats of strikes. However, just like strike threats in the UK, most do not actually happen. For example, hotel staff in the Balearics just called off a strike they had been threatening for weeks.
Has the price of a holiday in Greece, Spain, Portugal, for instance, come down as a result of the crisis and unemployment in these countries? Norman, Kibbutz Ein-Hashofet, Israel.
Demand for holidays in the eurozone remains high so most hotel prices have held steady, although there are always good deals to be had. However, the overall price of a holiday to the eurozone is likely to be lower, due to the fact that many bars and restaurants have brought down their prices, coupled with the euro being a lot cheaper than it has been in recent years.
The opinions expressed are those of the author and are not held by the BBC unless specifically stated. The material is for general information only and does not constitute investment, tax, legal or other form of advice. You should not rely on this information to make (or refrain from making) any decisions. Links to external sites are for information only and do not constitute endorsement. Always obtain independent, professional advice for your own particular situation.