UK construction output fell sharply in May, ONS says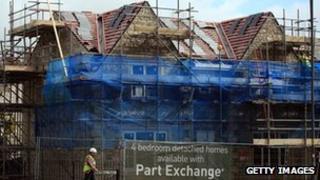 Output from the UK construction sector fell 6.3% in May compared with a year earlier, official figures show.
Between March and May, a more robust reading, the drop was steeper, down 7.4% from the same period in 2011, the Office for National Statistics said.
The main driver was the fall in new public works, which fell by about 22%, reflecting the impact of government spending cuts.
The only minor improvements were in new commercial work and non-housing repair.
These sectors grew by less than 0.5%.
Trevor Williams, chief economist at Lloyds Bank Wholesale Banking & Markets, said construction was being hit by companies and individuals paying back debt and by inflation eroding incomes.
"We are in a period of weakness... and that is feeding through into lower housebuilding and repairs and maintenance activity," he told BBC News.
"From the private sector side we are see companies holding onto cash and not spending at the moment."
The ONS statistics chime with the most recent recent Markit/CIPS purchasing managers' index (PMI).
The PMI reading indicated that activity in the construction industry in June had fallen at its fastest pace for two and a half years.
It also found employment in the sector fell for the first time in four months.
The construction sector accounts for less than 10% of the UK economy, but its weakness was cited as a key reason why the UK fell back into recession at the start of 2012.