Moody's cuts Italy's debt rating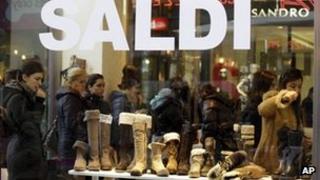 Moody's has cut Italy's credit rating, warning that the country was likely to see a sharp rise in borrowing costs.
The rating was cut two notches from A3 to Baa2, two levels above junk status.
The move raised concerns of a contagion risk from Spain and Greece, pushed Italian bank shares down and kept the euro near two-year lows against the dollar.
Moody's said that Italy's near-term economic outlook had "deteriorated" and access to credit markets could toughen.
On Thursday, Italy had raised 7.5bn euros (£6bn) in one-year bonds at a much lower rate than previously, suggesting improved investor confidence.
On Friday, after Moody's downgrade, Italy raised 3.5bn euros in an auction of medium-term government bonds, with the rate falling to 4.65% from 5.3% last month.
Weaker growth
Moody's said in its statement that Italy was now "more likely to experience a further sharp increase in its funding costs or the loss of market access" for borrowing to service its budget.
The ratings agency added: "The risk of a Greek exit from the euro has risen, the Spanish banking system will experience greater credit losses than anticipated, and Spain's own funding challenges are greater than previously recognised.
"Italy's near-term economic outlook has deteriorated, as manifest in both weaker growth and higher unemployment, which creates risk of failure to meet fiscal consolidation targets.
"Failure to meet fiscal targets in turn could weaken market confidence further, raising the risk of a sudden stop in market funding," Moody's said.
Shares of Unicredit, the country's largest bank by assets, fell 1.7% following the announcement. Intesa Sanpaolo, Italy's biggest retail lender also dropped 1.6%. The euro fell to $1.2192 in early trade, close to levels not seen since June 2010.
Limited help
Last month, European Union leaders reached an agreement to enable two rescue funds, the European Financial Stability Facility (EFSF) and the European Stability Mechanism (ESM), to help debt-laden economies.
But Moody's said "there is a limit to the extent to which these support mechanisms can be used to backstop such a large, systemically important sovereign" debtor such as Italy.
Italy is the eurozone's third biggest economy after Germany and France. While its banks are less exposed to bad property loans like in Spain, the country has deep-seated structural problems including low productivity, an inefficient public sector and a sharp north-south divide.
The economy has recorded anaemic growth for years, despite having adopted the euro in 1999.
In April, the government cut its growth forecast for 2012, and now predicts a 1.2% contraction in the economy compared with the previous forecast of a 0.4% contraction. The IMF expects the Italian economy to contract by 1.9% this year.