Wells Fargo pays $175m in racial bias settlement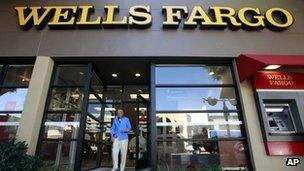 US bank Wells Fargo will pay at least $175m (£113m) to settle accusations that it discriminated against African-American and Hispanic borrowers, the Department of Justice (DoJ) has said.
The bank is accused of charging non-white customers higher interest rates and fees on mortgages than it charged white customers between 2004 and 2009.
Wells Fargo denied the claims.
But it said it was settling the matter "solely for the purpose of avoiding contested litigation with the DoJ".
The bank will pay $125m in compensation to about 4,000 customers and $50m in direct aid to communities hit by the sub-prime housing crisis.
The US government alleged that Wells Fargo "engaged in discriminatory lending practices against qualified African-American and Hispanic borrowers - thereby violating the Equal Credit Opportunity Act and the Fair Housing Act" from 2004 to 2009.
Subsequent investigations found "systemic discrimination" in Wells Fargo's lending practices, deputy Attorney General James Cole said.
Non-white borrowers were also steered towards riskier sub-prime loans, while white customers received standard loan terms, the DoJ said.
"An applicant's creditworthiness, and not the colour of his or her skin, should determine what loans a borrower qualifies for," Mr Cole said.
The DoJ said it was the second-largest fair lending settlement it had ever reached.