Primark sales growth boosts Associated British Foods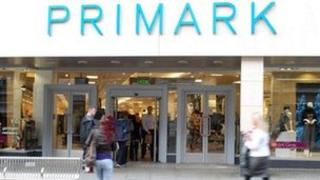 Sales at discount fashion chain Primark have continued to grow strongly, its owner Associated British Foods has said.
For the 40 weeks to 23 June, sales at Primark rose 16%, driven by a mixture of new stores and underlying growth.
Recent trading at Primark has been "good", the company said, apart from April when the wet weather hit sales.
Across the ABF group as a whole, which includes products such as Silver Spoon sugar and Twinings tea, sales rose 11%.
The company noted that household incomes were "under pressure" which had driven consumers to seek out price promotions.
It said increased advertising of Jordans and Ryvita had cut into margins on those branded goods, but its most profitable grocery items, Twinings and Ovaltine, had achieved good growth.
ABF said its Silver Spoon sugar brand had sold well particularly over the Diamond Jubilee weekend thanks to a rise in home baking.
Primark's sales figures contrast with those from Marks and Spencer earlier this week, which showed it losing market share to competitors.
Four new Primark stores were opened in the most recent quarter, all in Spain, and the chain now has 237 stores in total.
Overall, ABF said it was on track to report "substantial growth" in adjusted operating profits for the full financial year.