Vodafone to buy Telstra's New Zealand subsidiary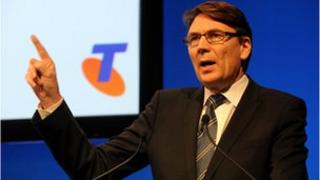 Australia's biggest telecommunications company, Telstra, has sold its New Zealand subsidiary to Vodafone for 840m New Zealand dollars ($668m; £431m).
Vodafone New Zealand would be gaining TelstraClear's network infrastructure, voice and data-based services and all its customers from the deal.
The acquisition is subject to regulatory approval.
Analysts said the move would create a more competitive market in New Zealand.
Both companies trail the dominant player Telecom in terms of market share, which has about a 50% of the telecommunications market.
The deal had been expected after Vodafone approached Telstra about a potential sale of TelstraClear last month.
"The deal is a natural one, bringing together TelstraClear's fixed telecommunications and data products and corporate client-base with Vodafone New Zealand's mobile offering and retail customer base," said David Thodey, Telstra's chief executive in a statement.