US brokerage PFG files for bankruptcy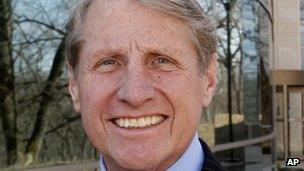 US futures broker Peregrine Financial Group, which has been accused of fraud, has filed for Chapter 7 bankruptcy, meaning it will be liquidated.
Its accounts were frozen on Monday following the attempted suicide of its founder, Russell Wasendorf Sr.
The Commodities Futures Trading Commission (CFTC) has alleged that PFG defrauded customers and lied to regulators.
It said PFG misused clients' funds to hide a $200m (£130m) shortfall.
Mr Wasendorf, 64, is reported to be in a coma at a University of Iowa hospital.
The bankruptcy filing showed that on 3 July, Mr Wasendorf had given power of attorney to his son, Russell Wasendorf Jr, who is the chief operating officer of PFG.
The CFTC said it did not know what had happened to the lost $200m of clients' money.
Media reports in Minnesota and Iowa since February have been suggesting links between PFG and a $200m Ponzi scheme run by Trevor Cook, who is now serving a prison sentence.
A Ponzi scheme is a fraudulent investment scheme, in which existing investors are paid returns from their own capital, or from the money of new investors.
There has been anger among investors that regulators did not spot the problems at PFG earlier, especially after the collapse of the much larger broker, MF Global.
Some clients moved their accounts from MF Global to PFG, following MF Global's demise in October.