Thorntons sees sales rise amid cost cutting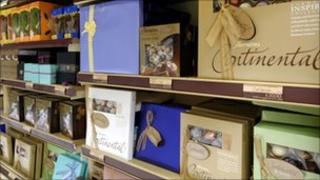 Troubled chocolate maker Thorntons has reported a rise in sales as it tries to return to profit.
Total sales for the three months to the end of June were £24.7m, up 8% compared with a year earlier.
But the company said that the period only accounted for about 10% of annual sales and that it remained cautious for the coming year.
Thorntons is in the middle of a cost-cutting programme that includes closing up to 180 stores.
When the closures were announced last June, the company owned and ran 364 stores. It also had 227 shops run by franchisees.
Sales in the second quarter from its own stores, as opposed to franchised stores, fell by £700,000 to £13.7m as a result of 36 stores closing.
The company said full-year results would be in line with expectations.
"We remain committed to our strategy of rebalancing our business, revitalising our brand and restoring profitability and I am pleased to see that the actions we have taken are starting to deliver improvements in a difficult trading environment," said chief executive Jonathan Hart.