Energy imports hurt Japan's current account surplus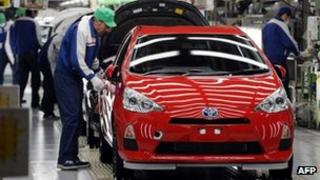 Japan's current account surplus shrank sharply in May after the country's energy imports hurt its trade position.
The surplus fell by 62.6% from a year earlier to 215.1bn yen ($2.7bn; £1.7bn), the Ministry of Finance said.
The current account is the widest measure of a country's trade with the rest of the world.
The figure has fuelled worries that weak global demand is hurting the recovery in Japanese exports after last year's earthquake and tsunami.
Power generation
The disaster, which lead to a nuclear scare, resulted in the closure of almost all of Japan's nuclear reactors amid major anti-nuclear sentiment.
That in turn meant power shortages and rolling blackouts in the summer.
Prime Minister Yoshihiko Noda has given his approval for a restart of reactors at the Ohi nuclear plant, which began power generation last week.
However throughout all of this Japan has had to increase imports of energy from overseas to make up the shortfall.
The current account measures trade in goods, services, tourism and investment. It looks at income from foreign sources against payments on foreign obligations.