Andy Murray loses match but raises brand profile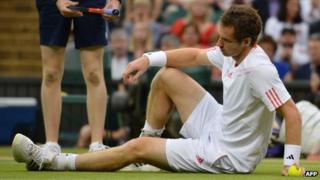 Andy Murray came, he saw, but he didn't quite conquer when he stepped onto Centre Court at Wimbledon to face the legendary six-times champion Roger Federer.
What was at stake, was a place in tennis history - to become the first British man to hold aloft the men's single trophy since it was won by Fred Perry in 1936.
When you already have an estimated fortune of £24m ($37m), prize money of £1.15m ($1.78m) is no longer the sole motivator to succeed in any sport.
Far more important is the legacy you leave behind when your sporting career is over.
But even becoming the first British man to reach the final in 74 years lifts Andy Murray into a different league and his defeat will not deter companies swamping him with sponsorship deals.
There is no shame in losing to the Swiss genius who has now amassed an unprecedented 17 Grand Slam titles.
"Reaching the final is quite an achievement and will only help to shape and enhance his brand," says Nigel Currie of the marketing company Brand Rapport.
"His appearance in the final has lifted Andy's profile and takes him into a space where global brands will start using him to promote their products," he says.
"For a brand to be associated with him at a time when he might actually make a conversion and win one of the major tournaments is pretty exciting," he says.
Global reach
It is widely assumed that a successful sportsman or sportswoman can double their on-court winnings with the amount they earn with sponsorships, but that varies greatly depending on the individual.
"Some players are very successful on the court and very unsuccessful off the court, including endorsements," says three-times Wimbledon champion Boris Becker.
"Others haven't won a whole lot and they have the biggest contracts of all time," he says.
"I was fortunate that I came from a country that was quite strong financially - that is crazy about sport, particularly about tennis - that there wasn't anybody before me that was successful in tennis.
"And I had a very very clever manager called Ion Tiriac and we had this perfect combination of him knowing exactly the business side and I was pretty good at tennis," he adds.
That brings into question what sort of branding Andy Murray might attract.
"He is a passionate person," says Dominic Curran of the sponsorship company Synergy, "So it has to be something he is both passionate about and which is relevant to him."
There has to be mutual interest between the player and the company.
"Andy is interested in developing a long-term legacy," he adds, "perhaps in getting more kids involved in sports."
Tennis is one of the few sports in the world which straddles the globe and he will be sought after by global brands.
Brand appeal
But what attracts a company to any particular sportsman?
"Different images, different personalities and public perception," decrees Mr Currie.
"Compare Wayne Rooney to David Beckham," he says, "both attract different sorts of sponsors: Rooney is more beer and crisps while Beckham is a glamorous global brand."
"First and foremost, what sponsors look for is success," says Dominic Curran of the sponsorship company Synergy.
"Any player who has made a lot of money with sponsorship has attained a sustained level of success in their chosen sport."
Two high-profile examples have been the golf player Tiger Woods, before his fall from grace, and football legend David Beckham.
They are recognised everywhere and their television advertisements are syndicated around the world in different languages.
One exception to that rule was Anna Kournikova, who never won a singles title.
"She came at a time when tennis needed an iconic marketing symbol," explains Mr Curran.
"Marketing was becoming a lot stronger and brands got behind her early," she says.
"She was among the first to bring that mixture of the celebrity and the sports world together."
It began a trend which continues through to this day, making Maria Sharapova the highest-paid female athlete in the world.
Feel-good factor
Before the last ball was struck, preparations were already under way to ready the Wimbledon courts for the Olympic and Paralympic Games.
"Andy Murray has the possibility of backing up his achievement with a potential medal in the Olympics," Mr Curran notes.
"With the English soccer team reaching the quarter-finals of the Euro 2012 competition, Jonathan Marray's success in the men's doubles at Wimbledon, and now Andy Murray's achievement, this is truly a golden summer in the UK," he says.