Gina Rinehart reduces her stake in Fairfax Media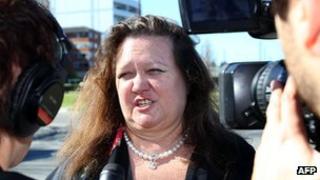 Australia's richest woman Gina Rinehart has reduced her stake in Fairfax Media amid a dispute about seats on the firm's board.
She cut her stake to 14.99% from 18.67% just days after her call for three seats on the firm's board was rejected.
Fairfax is one of Australia's biggest media groups, and critics have voiced concerns that Ms Rinehart may try to exert editorial control.
She has been a vocal critic of a number of government policies.
White Knight?
Ms Rinehart's wealth has been accumulated through her mining interests and she has been opposed to the government's mining and carbon tax plans.
Despite the criticism and opposition to her bid for board seats, she has denied she wants to take over Fairfax.
Last month, her company Hancock Prospecting issued a statement saying that it "hoped that Ms Rinehart may be viewed by the board as a successful business person and a necessary 'white knight' with mutual interest in a sustainable Fairfax".
Analysts said reducing her stake to less than 15% could be motivated by a number of factors.
"The two most likely or potential strategies are that Mrs Rinehart is looking to quit her position entirely or, possibly more likely, it's just a strategic play in the overall game to increase her pressure on the board," said Ric Spooner, a market strategist at CMC markets.
Legal hurdles
The Sydney Morning Herald, a newspaper owned by Fairfax, reported that Ms Rinehart's decision to bring down her stake was aimed at meeting the insurance policy rules.
Fairfax Media's insurance policy, which is common among companies in Australia, does not protect directors who own more than a 15% stake in the company from potential lawsuits.
Ms Rinehart's 18.67% stake prevented her being covered by that policy and, according to her firm, was working against her bid for seats on the board.
"This was one of the key issues recently raised by the chairman of Fairfax and needed to be resolved by either the chairman authorising endeavours to raise the 15% limiter... or by sale of shares so that the largest shareholder had less than 15%," Ms Rinehart's firm Hancock Prospecting said.
"Given the chairman did not undertake the former we have taken the latter."