Ireland 'encouraged' by successful bill auction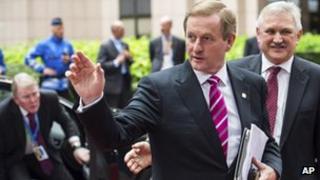 The Republic of Ireland, which got an 85bn-euro (£68bn; $106bn) bank bailout in 2010, has returned to the capital markets after a near two-year absence.
On Thursday, the country's debt agency raised 500m euros in a short-term debt auction.
The National Treasury Management Agency said it was "encouraged" by the level of interest.
The agency auctioned three-month Treasury bills at a yield of 1.8%, lower than the equivalent Spanish debt.
John Corrigan, chief executive of the NTMA, said: "We are encouraged by the strong demand, the competitive interest rate and the presence of significant international interest in today's auction.
"However, we are conscious that this is only the first step towards our ultimate goal of full access to the capital markets."
In contrast to Greece and Portugal, Ireland had not sold any short-term debt in the aftermath of its eurozone bailout.
The 1.8% average yield was lower than the 2.36% average yield on Spanish three-month debt, reflecting the Republic's relatively superior economic situation.
Meanwhile, Spain sold bonds worth 3bn euros on Thursday, but the average yield on its 10-year bonds rose to 6.43%, up from 6.04% achieved at the last auction on 7 June.