Boeing expects strong demand for new planes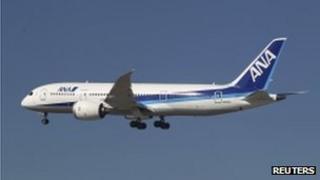 Boeing predicts $4.5tn (£2.8tn) of new planes will be bought over the next 20 years, driven by demand in China, India and other emerging markets.
The US planemaker predicts airlines worldwide will buy 34,000 new planes in the next two decades.
About one-third of the planes will be sold in the Asia Pacific region, followed by Europe and North America.
Struggling economic conditions and high fuel costs have weighed on airlines recently as people travel less.
'Resilient' market
Boeing forecast that airline traffic would grow at an annual rate of 5% over the next two decades, with cargo traffic growing at a slightly faster 5.2%.
Low-cost carriers, which are growing faster than the broader market, will also boost demand, the Chicago-based company said.
Airlines are also ditching older, fuel-guzzling aircraft for leaner ones, particularly in Europe, the US and Russia. Boeing forecasts replacements will account for 41% of new deliveries.
"The world's aviation market is broader, deeper and more diverse than we've ever seen it," said Randy Tinseth, vice president of marketing at Boeing Commercial Airplanes.
"It has proven to be resilient even during some very challenging years and is driving production rate increases across the board."
"Robust growth in China, India and other emerging markets is a major factor in the increased deliveries over the next 20 years," the company said.
Boeing predicted robust demand for its single-aisle next generation 737 and the 737 Max, which is due to fly for the first time in 2016.
Wide bodied planes, those that have two passenger aisles such as Boeing's 787 Dreamliner, are expected to account for nearly $2.5tn worth of new airplane deliveries with 40% of the demand coming from Asia.
Boeing cut its projection for the number of freight planes to be sold, blaming the current sluggish state of the cargo market.
But it still expects the world freight fleet to nearly double from 1,740 aircraft currently to 3,200 in 20 years' time.
"That market's going to come back when the economy comes back," said Mr Tinseth.