Chipmaker Renesas cuts 5,000 jobs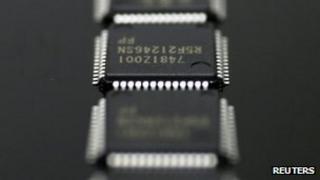 Renesas Electronics, the world's fifth biggest chipmaker, has announced a restructuring plan that will lead to at least 5,000 job cuts.
It is getting rid of half its 19 plants and cutting 12% of its workforce.
The plan is part of an agreement to get financial help from creditor banks and its three top shareholders: NEC, Hitachi and Mitsubishi Electric.
Renesas was created by successive mergers of the chip divisions of its three biggest shareholders.
The three shareholders own about 90% of Renesas shares.
The company wants to concentrate on making microcontroller chips for cars.
It reported a net loss of 62.6bn yen ($784m; £500m) for the year to the end of March 2012.
It has been struggling to compete with Korean and Taiwanese chipmakers.