Business programmes bid farewell to Bush House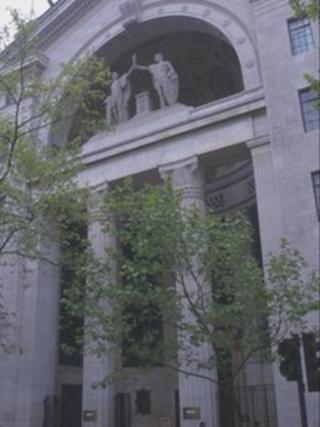 World Service radio's World Business Report broadcast its final programme from Bush House in the early hours of 2 July 2012. Programmes are now coming from the state-of-the-art studios in New Broadcasting House - a stone's throw from Oxford Circus in central London.
Daily Business programmes first started being broadcast from Bush House in 1995.
Prior to that, the financial news came from the central BBC business unit at the old Broadcasting House.
But with the collapse of communism, World Service knew the globalised economy was now central to its news agenda and the bosses in Bush House wanted their own team of business experts embedded at the heart of its news operation.
It was a time when the capitalists were celebrating their triumph over communism with a seemingly endless wild party.
Share prices soared 20% a year and as markets reached their peak at the end of 1999 the influential Wall Street analyst Ralph Acampora told us: "What is propelling this market is two things - one is peace, and the other one is technology. You are talking about another 10 years [of growth] because of a market which is stimulated by all of the things going on."
In fact - in the dozen years that have followed that comment, share prices have generally hardly risen at all.
Finger on the pulse
We did give plenty of air time to the optimists like Mr Acampora, but we also heard from the pessimists, worried about rising debts and reckless bankers.
Our strategy was to provide the broadest possible range of views and that was rewarded with messages of support from listeners - in those days, and still today - often by post.
One American listener told us he listened to us online every day to get more balanced coverage.
His message is still in the archives: "American financial reporting is pretty shallow. When you listen to financial reporting in the US it almost sounds like propaganda - it's almost like reporters are cheerleading for the economy."
We often wondered if the world's political and financial elites were listening to us, as we lurched from one financial scandal to the next and the stakes grew higher and higher.
In 1995, we were shocked that a rogue trader at Barings Bank could rack up losses of $1bn (£0.6bn) in derivatives trading and bankrupt his firm.
In 2008, when the US bank Citigroup bet wrong on derivatives, it needed $50bn of taxpayer cash to stay afloat.
We have always tried to look ahead as well as report backwards.
The failure of the US bank Lehman Brothers was no surprise to our listeners, thanks to an interview we had with expert Peter Morici the previous week, predicting the bank was "just a breath away" from collapse.
High values
In leaving Bush House, we lose the inspiration of a building built to last, with worn but still shining marble floors and beautiful ornate staircases.
What we gain with our return to Broadcasting House are better connections to the wider resources of the BBC, as well as studios fit for purpose.
Bush House studio S46 - with just one ISDN quality telephone line linking us to the outside world - has been a nightmare for our long-suffering studio managers. Only their genius and dexterity has got our multiple live link-ups on air.
But the sadness of leaving will be mainly about the past great broadcasters whose voices somehow still seem to echo around these soon-to-be-dismantled studios.
James Morgan was the masterful BBC World Service economics correspondent who started working in Bush House in the 1970s.
He retired in 1998 and sadly died just a few years later. In 1997, we put him on the spot when a listener asked him about the price of gold, then in the doldrums.
Who could foresee gold's meteoric rise five-fold rise since then? Certainly not James Morgan, who told the listener on the phone, with clarity: "Why do you dig up a metal in one part of the world and stick it in a hole in another part of the world and guard it and put barriers around it and keep it at a huge price? It cost a lot to keep gold in Fort Knox for example. You get no interest from it, it doesn't pay dividends, and central banks are selling their gold reserves."
Faced with that logic, our listener suggested it was clearly a good idea to steer clear of gold as an investment.
But James quickly interrupted: "I am always wrong if I give advice to people."
A great response, said our listener, from "an honest economist".
James embodied the BBC values that we all endeavour to stand by - clarity and modesty.
Our team remains determined to use the BBC's hard won-reputation to attract the best contributors from all over the world and challenge their views.
Our audiences can rest assured the same spirit of Bush will be alive and well in the new Broadcasting House.