Lloyds and Co-op move closer to sale of 632 branches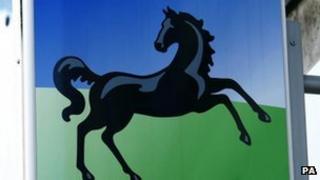 Lloyds Banking Group says it has reached an "understanding" with the Co-op to sell it 632 Lloyds TSB and Cheltenham and Gloucester branches.
The Co-op's prospects were strengthened further after a rival bidder, NBNK, said it was pulling out of the race.
The sale was demanded by Brussels after Lloyds bought Halifax Bank of Scotland during the financial crisis, and also needed government support.
Exclusive final talks between Lloyds and the Co-op will now continue.
Lloyds, which is 40% owned by the government, has until November 2013 to complete the sale.
The bank branches being sold represent 6% of the UK market place, and have around five million customers.
The takeover will result in the Co-op increasing its share of the retail banking sector from 1% to 7%.
The Treasury said: "Although the deal has not been finalised, we warmly welcome this development as a positive step in the process of delivering the Lloyds divestment and the benefits that will have for competition and the mutuals sector. "
NBNK, was set up by former Lloyd's of London insurance head Peter Levene, and run by former Barclays and Northern Rock executive Gary Hoffman.