News Corp confirms it is considering split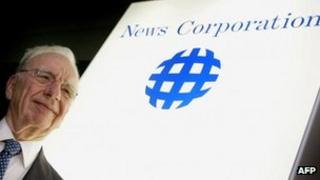 Rupert Murdoch's News Corporation has confirmed that it is considering splitting itself in two.
The media giant said it was exploring forming "two distinct publicly traded companies", sending its shares up 6.3%.
While News Corp gave no details, reports say it will split its broadcasting and publishing businesses.
Analysts say this would protect its more profitable TV operations from its UK newspaper business, which is embroiled in a phone-hacking scandal.
If any future split of News Corp is along such lines, it would put the 39% stake that News Corp owns in UK satellite broadcaster BSkyB into a separate company from its British newspapers.
Slow growth
Media consultant Theresa Wise said preventing a "reputational bleed" from the newspapers involved in the hacking scandal to the other parts of the business was not the only reason the split would make sense.
"The media side of the business is a much faster growth business... the publishing side of the business, the books and the newspapers, are very slow or no-growth businesses," she told BBC News.
"The whole company of News Corp is less highly valued because investors can't split out the slow growth from the faster growth."
Fellow media analyst, Steve Hewlett, agreed that these two separate factors were both behind the possibility of a split.
He said: "The frustration [of investors] is that Rupert Murdoch has maintained his enthusiasm for newspapers despite abundant evidence that they are in decline, they are not a growth business any longer, and in investment terms that is not where you want to be.
"The other thing of course that a separation like this does is it attempts to draw a very clear line, produce real blue water if you like, between the infectious potential of News International and the newspapers, and the rest of the business."
'Ring-fence uncertainty'
The Wall Street Journal, which first revealed the possibility of News Corp splitting in two, said that the Murdoch family, which has 40% of the voting shares in News Corp, would retain control of both separate firms.
The BBC's business editor Robert Peston said that the publishing business would be the smaller of the two potential companies, representing about 25% of current News Corp revenues, and 10% of its profits.
Anthony DiClemente, media analyst at Barclays, said it was "unclear if spinning off the publishing business would ring-fence liabilities associated with the ongoing hacking investigation".
Analysts were also unsure whether a split would help News Corp take full control of BSkyB in the future.
Mr DiClemente cautioned that the "common ownership of both entities by the Murdoch family will remain an obstacle" due to competition concerns.
One of News Corp's investors, Christian Brothers Investment Services, said the media group had to do much to secure shareholder backing for any switch.
Julie Tanner, CBIS's assistant director of socially responsible investing, said: "For investors to view a split as credible, they would need to know at the outset that any boards will be led by a qualified independent chair, and would include a substantial majority of independent directors.
"This is an opportunity for News Corp to get this right and create a governance structure that would benefit all shareholders.
"This is also an opportunity to eliminate the dual class structure and allow all News Corp shareholders equal voting rights."