India unveils steps to boost rupee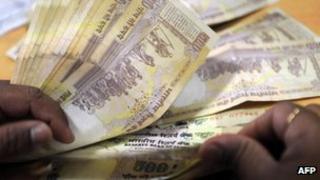 India has announced a number of measures to prop up the rupee, which has been falling against the US dollar.
The limit on foreign investment in government bonds has been increased, among other steps.
The Indian currency, which has fallen almost 25% in the past year, dropped to 56.80 to the US dollar after the announcement.
Analysts say the fall was down to disappointment over the lack of major reforms to boost growth.
India's central bank also announced measures such as allowing sovereign wealth funds, endowment funds, pension funds and foreign central banks to invest in government bonds to boost the rupee.
The prime minister's top economic advisor C Rangarajan said Monday's measures will have limited impact on the currency in the short term.
"I think the correction will happen over time, because it will happen only when the capital flows come in. The avenues have been opened," he told a news channel.
Slowdown
The drop in the currency has coincided with a slowdown in India's economic growth.
India's economy expanded at an annual rate of 5.3% in the first quarter, the slowest pace of growth for nine years.
The slowdown has resulted in calls for the Reserve Bank of India to cut interest rates. However, the weakness of the rupee has made things complicated for the central bank.
A weak currency has contributed to rising consumer prices in the country. The high rate of inflation was the key reason cited by the central bank when it left its interest rates unchanged earlier this month.
Last Updated at 23 Mar 2018, 22:50 GMT
$1 buys
change
%
65.0250

+

+0.02

+

+0.03
India's economy has been going through a rough patch in recent times. Many analysts have said that it needs to introduce a fresh wave of economic reforms to sustain long-term growth.
Last week ratings agency Fitch cut its outlook for the Indian economy to negative, saying there were "heightened risks" to its growth.
It said that India's growth potential: "will gradually deteriorate if further structural reforms are not hastened".
Another ratings agency, Standard & Poor's, has also warned that India may lose its investment-grade status.
Analysts said that India's policymakers needed to take care of these issues to boost confidence among investors and improve the country's investment climate, rather than relying on short-term measures to support the rupee.