Spanish banks need up to 62bn euros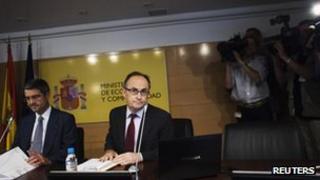 An independent audit of Spain's banks has found that they will need up to 62bn euros (£50bn) in extra funding.
European authorities had already agreed to provide up to 100bn euros ahead of assessments of the banks' needs.
Jean-Claude Juncker, the head of the eurogroup, said that Spain would make a formal request for financial assistance before next Monday.
He was speaking at a eurozone finance ministers meeting in Luxembourg which will discuss the bailout.
The head of the International Monetary Fund (IMF), Christine Lagarde, who was also at the meeting, said eurozone countries must tie their economies together much more closely, if they wanted to tackle the crisis.
Ms Lagarde said: "The IMF believes that a determined and forceful move towards a complete European monetary union should be reaffirmed in order to restore faith in the system. Because as we see it at the moment, the viability of the European monetary system is questioned."
She also said that the IMF, the European Union and the ECB - the so-called "troika" overseeing Greece's bailout - will send representatives to Greece on Monday to review the country's progress in reforming its budget.
In other developments on Thursday:
Severe scenario
The estimates of extra funding needed to stabilise Spain's banks came from audits by the US firm Oliver Wyman and German firm Roland Berger.
Oliver Wyman estimated between 51bn euros and 62bn euros would be required, while Roland Berger estimated 51.8bn euros.
They were asked to work out how much money the banks would need if the Spanish economy were to shrink 4.1% this year, 2.1% next year and 0.3% in 2014.
In the adverse scenario they were also asked to model what would happen if house prices fell 19.9% this year, 4.5% next year and 2% in 2014.
Their research covered 14 banking groups that account for 90% of Spain's banking sector.
The figures were announced at a news conference by deputy governor of the Bank of Spain Fernando Restoy.
Mr Restoy declined to comment on individual banks, but said that most of them were deemed to be in a "comfortable" position.
"The [capital needs] are lower than the amount agreed on with the eurogroup to give security and confidence to markets, with enough room to carry out the restructuring," Mr Restoy said.
They were not as large as many analysts expected, according to the BBC's Andrew Walker, who is at the meeting of eurozone finance ministers in Luxembourg.
"Even so, Spain's banks need massive government help to repair the damage done to their finances by the boom and bust in the country's property market," he said.
Spain's short-term cost of borrowing - the yields on government bonds - hit a 16-year high on Thursday.
Madrid sold 2.2bn euros of bonds repayable over two, three and five years.
It paid a yield of 6.07% on five year bonds, up from 4.96% in May.