Average rents up to £712 a month, letting agents say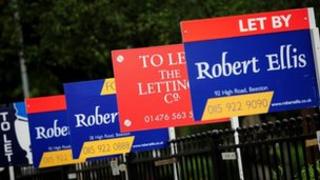 The average rent being paid by private tenants in England and Wales rose again in May, to £712 a month, a report has said.
The 0.4% rise was the second monthly increase in a row, with average rents now back to where they were in January.
It means rents are now 2.3% higher than a year ago.
The figures, compiled by letting agency business LSL Property Services, show rents rising fastest in London and the South East.
David Newnes of LSL said: "Rents have returned to the level seen before the impact of the stamp duty deadline rush by first-time buyers.
"Historically high rents and rock-bottom savings rates are hampering attempts to save for the larger deposits banks now require.
"In turn, fewer tenants are able to leave the sector, and the strong tenant competition is pushing up rents as a result, making saving for a deposit harder still,"