More Bank of England members support extra stimulus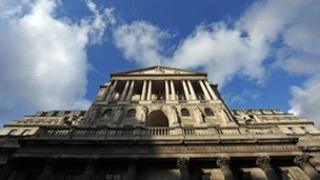 Four members of the Bank of England's policy-setting Monetary Policy Committee supported pumping extra money into the economy at its latest meeting.
That is one short of the majority which would be needed to increase quantitative easing (QE) from £325bn.
The minutes of the June meeting show that governor Sir Mervyn King, David Miles and Adam Posen voted for a £50bn boost to QE, which aims to help the economy by stimulating lending.
Paul Fischer favoured a £25bn rise.
Last month, Mr Miles was the only one of the MPC's nine members to vote for an increase in QE.
All nine MPC members agreed with the decision to hold interest rates at 0.5%.
The minutes said that the risks to the UK economy had increased since their last meeting, particularly from the euro area.
"The likelihood of a disorderly outcome looked to have increased, and that could, if it crystallised, have a significant effect on global demand and the stability of the banking system, including in the United Kingdom," the minutes said.
Even without a disorderly outcome, the members thought that the continued threat of one would continue to affect economic activity and banks' ability and willingness to lend.
Wait and see
The quantitative easing programme aims to boost the economy by encouraging banks to lend more to businesses and consumers, and at lower rates.
Despite the fact that the UK is back in recession, analysts have suggested that the Bank of England would not increase its QE programme while inflation was still high, as increasing the amount of money in the economy can be inflationary.
It is more likely to do so now that prices are rising at a slower rate. This week, the ONS said inflation had dropped to 2.8% in May, its lowest level for two and a half years.
"On balance, most members judged that some further economic stimulus was either warranted immediately or would probably become warranted in order to meet the inflation target [of 2%]," the minutes said.
However, they decided on a wait-and-see approach, partly because of concerns about inflation, but also to see how events in the eurozone played out.