Kesa announces sharp fall in profits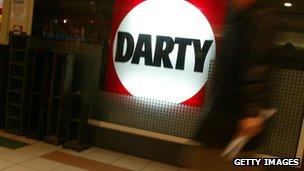 Profits at electrical goods retailer Kesa, which owns Darty, have almost halved in the 2011-12 financial year, compared with a year earlier.
In an "exceptionally difficult" period, full-year profits were 59m euros (£48m; $75m), down from the 102m euros it made the previous year, Kesa said .
Following the sale of UK chain Comet this year, the group will be renamed Darty from 31 July, it said.
It also said shareholders should expect to receive a sharply lower dividend.
It is proposing a dividend of 3.5 cents, half of what it paid in 2011.
Looking forward, chairman David Newlands said: "It is clear that market conditions have become more challenging across Europe and the macro-economic outlook remains uncertain."
In addition to the sale of Comet, the group is also selling Darty Telecom to French firm Bouygues Telecom and is in the process of closing nine stores in Italy and Spain.
It is hopeful that measures to improve the efficiency of the business, and the move to the Darty brand across the group, will further help its financial situation.