Shoppers prefer 'bogof' offers, survey claims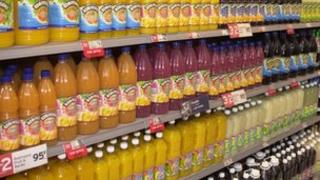 Buy-one-get-one-free, or "bogof", deals are the most popular supermarket promotion among shoppers, a survey has claimed.
They were ranked ahead of money off single items, and vouchers and coupons in the Shoppercentric survey.
But, of the top three, only vouchers have seen their popularity rise since the last time the relatively-small sample survey was conducted.
Shoppers were more savvy about prices as economic worries grew, it said.
The survey, of 1,074 people, was published the day ahead of the latest official inflation figures, which outline the extent of the rising cost of living.
'Cost-conscious' shoppers
Promotions have picked up during the period of austerity to counter shoppers' pessimism, according to Danielle Pinnington, managing director of Shoppercentric. These included "January" sales starting before Christmas, and constant in-store deals.
The survey found that loyalty card offers, meal deals, and free gifts and competitions had all risen in popularity since 2009, but multi-buy deals - such as three-for-two offers - had fallen away.
"Today's cost-conscious shoppers are very savvy and they have a greater awareness of pricing, a willingness to compare prices, and they use of word of mouth or social media to share good deals," said Mrs Pinnington.
"Shoppers have grown cynical about promotions, with many believing that price cuts are achieved by hiking prices first, or by reducing pack size.
"Our findings indicate that shoppers are now looking for solid reward-based offers - and they are prepared to wait for them.
"Use promotions too often and shoppers re-adjust their price expectations to the promoted prices, rather than recommended sales price. Retailers cannot afford for that to happen."