Man Group finance director Kevin Hayes steps down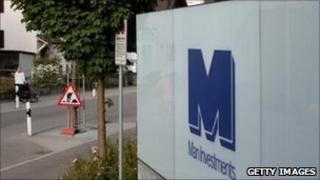 Kevin Hayes has stepped down as finance director of struggling hedge fund firm Man Group on the day the company is demoted from the FTSE 100.
Jonathan Sorrell, Man's head of strategy and corporate finance, will replace him at Europe's largest listed hedge fund.
Man, whose shares have slumped, is being replaced in the FTSE 100 list of the UK's leading companies by Babcock.
Mr Hayes is leaving to pursue "other interests", Man said in a statement.
He joined Man in 2007.
Man Group shares have tumbled since the last FTSE review in March, and are down almost two-thirds since last year.
The firm's funds have struggled as cautious clients withdraw money because of the market turmoil caused by the eurozone debt crisis.
Mr Sorrell, son of WPP advertising chief Sir Martin Sorrell, spent more than a decade at Goldman Sachs before joining Man last August.
In a statement, Man chief executive Peter Clarke said Mr Sorrell's experience "will be extremely valuable as we continue to develop and evolve in challenging world markets".