Spain PM Rajoy says further reforms needed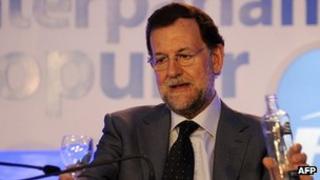 Spanish Prime Minister Mariano Rajoy has said further action is needed to make the economy "more flexible and competitive" after the International Monetary Fund called for wider reforms.
But he stopped short of committing to specific measures, such as increasing sales tax and reducing public wages further, urged by the IMF on Friday.
Madrid has already implemented drastic cuts to reduce its debt levels.
The IMF said Spain was likely to miss its deficit target for this year.
Spain is implementing spending cuts to try to slash its budget deficit to 5.3% from 8.5% in 2011.
Many economists said the target was unrealistic when it was announced earlier this year.
The IMF said Spain needed to raise revenue from taxes, and look at further spending cuts.
Mr Rajoy responded by telling members of his Popular Party that: "We must undertake reforms which will make our economy more flexible and competitive.".
"We have to prepare for the future".
Emergency loans
Meanwhile, thousands of demonstrators gathered outside Bankia's headquarters in Madrid on Saturday evening to protest against the management of Spanish banks that were bailed out by the eurozone last weekend.
Spain was given 100bn euros ($125bn; £80bn) in emergency loans to help its struggling banks, which are severely under-capitalised following the collapse of the Spanish property market.
Bankia alone lost 3bn euros in 2011.
Earlier this year, the Spanish government announced 27bn euros of cuts from its budget as part of one of the toughest austerity drives in the country's history.
Changes included freezing unemployment benefits and public sector workers' salaries, slashing departmental budgets and increasing tax on large companies.
But the spending cuts and tax rises have undermined the economic recovery in Spain. The country is back in recession and has the highest unemployment rate in the eurozone, with almost one in four workers out of a job.