US factory output falls as car production declines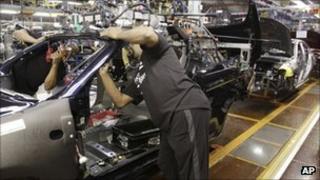 US factory output fell in May after a strong gain in April, as carmakers cut production for the first time in six months, according to official figures.
The Federal Reserve data showed that manufacturing activity fell 0.4% last month, having increased 0.7% in April.
In the car industry, output contracted 1.5% in May, the first decline since November of last year.
Overall industrial production, which includes mines and utilities, dipped 0.1%, after a 1% rise in April.
Separately, a survey from the Institute for Supply Management, a trade group of purchasing managers, said that the manufacturing sector added 12,000 more jobs in May, but that the pace of hiring is slowing.