Ruud Gullit gets athletes close up with fans and sponsors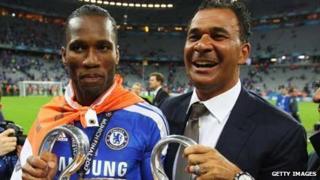 Many football big names have trouble filling in the yawning hours of spare time they find on their hands when they stop playing or managing, but not Ruud Gullit.
The former AC Milan, Chelsea, and Netherlands star seems to be perpetually on the go.
After being a globe-trotting ambassador for the Netherlands-Belgium 2010 World Cup bid, he now offers football analysis on TV and in newspapers, appears regularly at charity and youth sporting events... and even pops up at sports business conferences.
When the Dutchman made a surprise appearance at a new media seminar in Paris recently, many wondered if he had turned up at the correct event.
But he was in fact checking out the potential interest in a new social media website for sports people that he is helping to promote, called Cloozup.
Integration
Its aim is to help footballers, and other sports people, to monetise their expanding social media activities while at the same time helping them strengthen their connections with their legions of loyal fans.
"Other people are making money out of social networks, but nobody was talking about the footballers and athletes, and how they could benefit from social media," says Cloozup brand ambassador Gullit.
"At the moment the only person who makes money from Facebook is themselves, through adverts.
"So we wanted to look at how we could turn that round so that some money goes back to the sports people and athletes."
The site integrates the social media content produced by athletes on sites such as Twitter and Facebook, and it is envisaged that if successful then a star's Cloozup page could eventually take the place of their existing personal website.
One major revenue stream will be from selling advertising on the back of the the large aggregate social media numbers being driven to an athlete's Cloozup page.
Advertising on a sports person's Cloozup page can then be targeted towards attracting consumers in specific geographic regions.
"We are trying to carefully match brands, audiences and athletes together, " says the man who captained Holland to their Euro 1988 triumph.
At the same time the Cloozup team hope there will be a spin-off enhancement of a sports person's "brand appeal" by having all of their social media links in one place.
Famous footballers who have signed up so far for Cloozup are Gullit's compatriots Robin van Persie of Arsenal, and Rafael van der Vaart of Tottenham Hotspur.
It also hoped that there will be a number of sporting legend's signed up to the site too.
And sporting clubs and federations are also being invited to get involved and set up Cloozup pages.
"But it is not only for the big guys we want," says Gullit, a two-times European Cup winner with AC Milan.
"We also want those from smaller sports such as fencing, rowing, shooting.
"We want their profiles to mingle on Cloozup with those of famous sports people, so that they can also make money out of the social media.
"It will mean emerging sportsmen and women can also create fan bases and attract sponsorship through their own pages."
The firm was founded in Amsterdam in 2011.
'Real world'
It also has a base in Singapore, and will be looking to target audiences in Asia, which is seen as having a large and potentially lucrative sporting fan base.
The site has also identified virtual goods - for sale to fans - as another source of revenues for sports people and those who advertise on their pages.
Incentives for fans to visit a sporting star's Cloozup page include meet and greets, access to events, memorabilia, and sporting tutorials.
The site is currently in its beta trial stage but is set to go live later in the summer.
"I believe in this concept," says Gullit, who was the first overseas manager to win a major honour in England, when he took Chelsea to 1997 FA Cup victory.
"Although I have not invested money in it, I have invested a lot of time and effort.
"It is good to do something in the real and wider world, outside of football.
"It is fun to start something up from scratch, and from a personal point of view it also gives me the chance to keep in touch with my fans."