Ford workers plan 24-hour strike in pay and pension row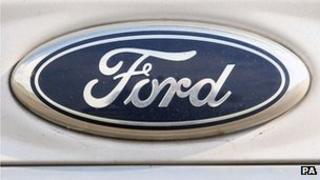 Ford workers are threatening a 24-hour strike on Monday following a dispute over pay and pensions.
The Unite union, which represents about 1,200 white-collar employees at the car manufacturer, said 67% of staff voted in favour of industrial action after a ballot in May.
Workers are angry over plans to close the final salary pension scheme to new recruits and reduce levels of pay.
The walk-out is scheduled to start at 06:00 on Monday.
Plants at Halewood, Southampton and Dagenham are among seven centres that will be affected by the strike action.
Roger Maddison, Unite national officer, accused Ford of trying to create a "two-tier workforce".
He said: "We fiercely oppose the closure of Ford's final salary scheme to new entrants because we believe ultimately Ford will try to close the entire scheme.
"The UK has the best sales in Europe, there's no excuse to attack the terms and conditions of a new generation of Ford staff."
He also accused the company of paying new recruits less than existing workers for doing the same job.
"This is totally unacceptable," he said.
A spokesman for Ford, which employs 15,000 workers in the UK, said: "Ford remains willing and available to continue discussions with the union representing these workers.
"The vast majority of the company's employees are not involved in this disagreement, or the decision to take industrial action."