European Union new car registrations fall sharply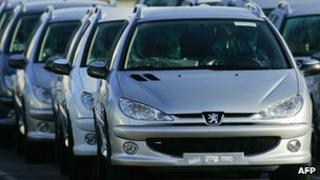 Demand for new passenger cars fell sharply across the European Union in May, reflecting weak consumer confidence in the wake of the financial crisis.
The European Automobile Manufacturers' Association said new car registrations totalled 1,106,845 vehicles, down 8.7% compared to the same month last year.
France led the decline with a 16.2% market contraction, closely followed by Italy, which fell 14.3%.
Only the UK market grew, rising 7.9%.
EU-wide five-month sales figures for 2012 fell 7.7% to 5,442,326 vehicles.
In France, the hardest hit market, sales of Peugeot cars were down 18.1% in May to 72,114, while Citroen sales fell 21.1% to 60,447.
Even Germany, which has seen an overall rise of 0.3% for the first five months of 2012, fell 4.8% last month.
Volkswagen sales dropped 7.8% to 142,628, while BMW sales fell 3.7% to 56,883.
The disappointing sales figures have prompted Sergio Marchionne, chief executive of Fiat, to reduce European capital investment by 500m euros (£406m) in 2012.
By contrast, the UK market is performing strongly, with Jaguar Land Rover sales up 34.5% in May.