Premier Foods sells Sarson's and Haywards for £41m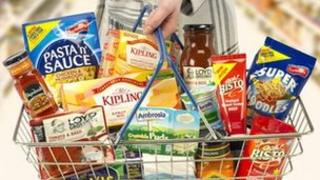 Premier Foods is selling its vinegar and sour pickles business as it continues its strategy of concentrating on "power brands".
It will sell Sarson's and Dufrais vinegars and Haywards pickles for £41m to Japanese food producer Mizkan.
The products are predominantly made in Middleton near Manchester and Premier said all staff will transfer to Mizkan.
Premier is concentrating on eight brands it thinks have the best prospects, including Hovis and Oxo.
Others include Mr Kipling, Bachelors, Oxo and Sharwood's.
Sarson's is the UK's best-selling vinegar brand.
Both it and the Haywards business date back more than 100 years, with Sarson's created in 1794 by Thomas Sarson.
Haywards dates back to 1868 and also makes pickled onions red cabbage and gherkins.
'Beloved' brands
The sale to Mizkan will not include Premier's factory at Bury St Edmunds in Suffolk, where some of the Haywards pickles are currently produced.
Premier said in a statement this latest move represented a further step in its strategy to prioritise investment behind the eight brands.
Mizkan said it was delighted to have bought the brands, which it said were "beloved" by consumers and provided a solid foundation for further growth in the UK.
Premier, which is the country's largest food manufacturer, ran into trouble last year partly because of a huge pension scheme deficit.
In March this year it renegotiated its bank debt and was given more time to repay the £1bn of loans.
The company, the UK's largest food manufacturer, ran up large debts after buying up brands including Homepride and Fray Bentos.
At the beginning of this year it said it would cut 600 jobs, about 5% of its 12,000-strong workforce, to trim costs.
Its banks have now extended its repayment deadline from 2013 to 2016.