US consumer prices fall after drop in cost of petrol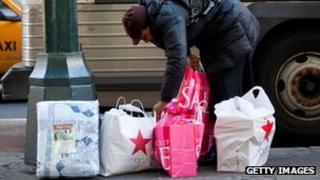 US consumer prices fell by 0.3% in May, the biggest monthly fall in more than three years, due largely to a sharp drop in petrol prices.
Petrol prices fell 6.8%, while food prices were unchanged, the Labor Department said.
Against a year earlier, prices rose by 1.7%. Annual inflation has been falling from 3.9% in September last year.
Some analysts said the drop in monthly prices made further stimulus measures more likely.
"The odds of an extension of Operation Twist are growing with each passing poor data point," said Dan Greenhaus, chief economic strategist at BTIG.
Operation Twist was the name given to last year's bond buying programme by the Federal Reserve.
Figures released on Wednesday showed a fall in US retail sales in May for the second consecutive month.
Last month, GDP figures showed that the US economy grew at an annualised pace of 1.9% in the first three months of 2012, down from an initial estimate of 2.2%, and below the 3% growth recorded in the final quarter of 2011.