Working pensioners 'nearly double' since 1993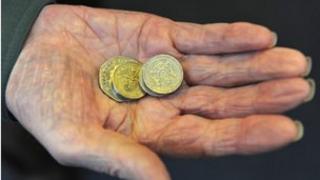 The number of people in the UK working beyond the state pension age (SPA) has almost doubled since 1993, to stand at 1.41 million in 2011.
The Office for National Statistics said this reflected not only a growing and ageing population, but pressure to keep on earning beyond retirement age.
About two thirds of those working beyond SPA are working part-time.
And just over half work for small employers, who are more likely not to provide a pension scheme.
"The number of workers above SPA has risen at a faster rate than the population," the ONS said .
"There may be many factors influencing the decision for more people to work past SPA such as the improved health and well-being of this group, financial pressures, people living longer and wanting to remain active in society and others."
The state pension age is currently being equalised for men and women at age 65, and is then going to rise to 66 for both men and women by 2020, and then to 67 by 2028.
Long-serving
The ONS research found that 32% of the older workers over SPA were self-employed, compared with 16% of their younger counterparts.
Also, those employed by someone else were likely to have been with their employer for a long time.
The ONS said 62% of those working beyond SPA had been with their current employer for 10 years or more.
"When working over the SPA, those remaining in the labour market work fewer hours, possibly helped by the financial support of their state pension and other pension arrangements, which allows them to fit their work around other engagements," the ONS said.
Darren Philp of the National Association of Pension Funds (NAPF) said it would become the norm for older people to keep on working.
"Many are choosing to ease into their retirement for social and financial reasons, and part-time work is a popular option," he said.
"The problem comes when people want to retire, but end up stuck at work because they cannot afford to leave.
"With half the workforce not saving into a pension, this is going to become a painful reality for millions," he warned.
'Inadequate retirement savings'
The peak year for the numbers working beyond SPA was 2010, when they reached 1.45 million, or 12.4% of the population over SPA.
Their numbers dropped back in 2011 to 1.41 million, or 12% of the older population, possibly due to the general rise in unemployment.
The official unemployment rate rose from 7.9% in the final three months of 2010 to 8.4% a year later.
Tom McPhail, of the investment firm Hargreaves Lansdown, said: "This [trend] is an inevitable consequence of more and more people arriving in their 60s with inadequate retirement savings.
"This will accelerate over the next few years; it presents a significant challenge to individuals and employers who will need to find ways to accommodate more flexible working patterns and later retirement ages."