Majestic Wine cuts minimum delivery to six bottles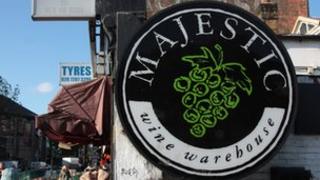 Majestic Wine is to halve the minimum number of bottles of wine that customers must order online to get them delivered.
From 12 June, customers can order six bottles to be delivered, down from the current requirement of at least 12.
Maureen Hinton, retail analyst at Verdict, said the move would boost the number of online customers.
"However, it could have some impact on operating costs," she added.
Majestic made a similar move for its physical stores in 2009, making its minimum in-store purchase six bottles of wine.
Majestic chief executive Steve Lewis said the motivation behind the move was "to suit the needs of online customers".
"It will stop abandoned baskets at the online checkout stage," added Maureen Hinton.
To get six bottles delivered free, its customers will have to spend more than £40. Any order under £40 will incur a £5 delivery charge.
In January, Majestic reported strong Christmas trading with like-for-like UK sales, excluding the impact of new store openings, up 4% in the nine weeks to 2 January this year.
The company now has 181 stores across the UK.